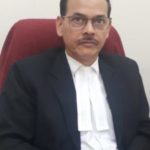 Name:   Ram Prakash Pandey
Date of Birth:           15.07.1960
Education Qualification:  B.Com, LL.B., LL.M.
Present Posting:  Working as District & Session Judge, North District, Rohini Courts, Delhi since 14.02.2019.
5: Additional Information:
Practiced as an Advocate in Civil and Criminal Cases in Varanasi District Court and Allahabad High Court from 1986 to 1991.
Worked as Legal Officer/Counsel with Nationalized Banks and Public Sector Financial Institutions from September 1991 to 2003.
Joined as member of Delhi Higher Judicial Services on 21st January 2003 and held different courts viz. Additional District Judge and Presiding officer, MACT at Tis Hazari Courts, Joint Registrar with High Court of Delhi: Additional Sessions Judge and Special Judge (CBI) at Rohini Courts: Additional Sessions Judge ( Electricity) at Dwarka Courts: Principal Judge, Family Courts at East District, Karkardooma and North District, Rohini Courts.
Promoted and Presently working as District & Sessions Judge, North District, Rohini Courts, Since 14th February 2019, Besides, also worked as trained mediator since 2007 with Mediation cell of Tis Hazari, Rohini, Dwarka and Karkardooma Courts.