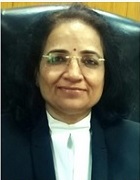 Ms. Poonam A. Bamba
Name                                                Ms.  Poonam A. Bamba
Date of Birth                                  01st September, 1961
Place of Birth                                 Delhi
Education
B.Sc. Botany (Hon.) Hans Raj College, Delhi University;
LL.B, LL.M., Faculty of Law, Delhi University.
Diploma in Administrative Law Indian Law Institute, Bhagwan Das Road, New Delhi.
Professional Details
Practised as an advocate in Delhi District Courts and High Courts for about five years from 1983-1987.
Worked as Law Officer/Deputy Chief Officer (Law) with Punjab National Bank and Central Bank of India, respectively from 1987 to 1996.
Worked with Securities Exchange Board of India (SEBI), Mumbai as Division Chief (Legal) and Joint Legal Advisor from 1996-2002.
Also represented SEBI before Securities Appellate Tribunal, Mumbai, Bombay High Court and other courts in India.
Joined Judiciary in Delhi Higher Judicial Services on 5th December, 2002.
Worked as ADJ/Matrimonial Court at Tis Hazari Courts, Delhi (2003 to January, 2006).
Worked as ADJ/Land Acquisition Court and also dealt with Appeals under the Public Premises (Eviction of Unauthorised Occupants) Act, 1971, at Tis Hazari Courts, Delhi (January, 2006 to November, 2008).
Posted as Additional Sessions Judge in Patiala House Court, New Delhi (November 2008 – February, 2010).
Posted as Judge, Family Courts, Rohini (2010 to 2012).
Worked as Additional Sessions Judge, Patiala House Courts, New Delhi and also dealt with POCSO cases (November, 2012 – April, 2013).
Posted as Spl. Judge, CBI at Patiala House Courts, New Delhi (April, 2013 till 20th January, 2015).
Posted as Principal Judge, Family Courts, South District, Saket, New Delhi (20th January, 2015 till 8th December, 2016).
Joined as District & Sessions Judge, South East, Saket Courts, New Delhi w.e.f 8th December, 2016 till 30th April, 2017
Joined as District & Sessions Judge, New Delhi at Patiala House Court w.e.f 1st May, 2017.
A Trained Mediator and worked as Mediator.
-Authored Two Books:-
-Perfect Marriage- Not a Mirage
-Temple of Justice- A School of Life
 Was the Best Athlete of Law Faculty in the year 1983.
A keen observer of life and nature and has special interest in dynamics of human relationship.