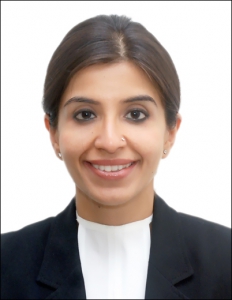 MS. SHREYA ARORA MEHTA
Secretary, Delhi Legal Services Authority (South)
Ms. Shreya Arora Mehta is the Secretary of Delhi Legal Services Authority (South). Ms. Mehta joined judicial service in the year 2010. In the last five years she has worked as Metropolitan Magistrate and as a Civil Judge of South District, Delhi.
Before becoming a Judge, Ms. Mehta gained diverse experience in law as a practicing lawyer, and as a Law Researcher in High Court of Delhi with Hon'ble Mr Justice A K Sikri.
During her law school, she also worked as Dean's Researcher and as Trainee Researcher at Central Bureau of Investigation (CBI). She always has and continues to believe in deployment of dedication, hard work and perseverance in whatever she does. Ms. Mehta secured first position in Delhi Judicial Services Examinations. She aced law school at the top of her class, an all rounder, she is also the recipient of various medals/awards in National as well as International Moot Court Competitions and Essay Competitions. She holds a Masters Degree in the field of law. A voracious reader, she also has many publications to her credit in the field of Human Rights, Criminal Justice Process and Alternate Dispute Resolution.